I am still very much in denial about this whole event, even though I've come to accept it and all. Still, I was in half a mind to compile some songs that related to the last few days of the Ten, which at one point seemed unlikely, but then I opened up Paint Shop Pro and ended up with a front cover and a back cover and a list of songs that related... and here we are. The title is from one of the songs chosen, but also, at the same time, from the same thing he said to Sarah Jane. Anyway... goodbye Ten, we will miss you.


a farewell to the tenth doctor •remember me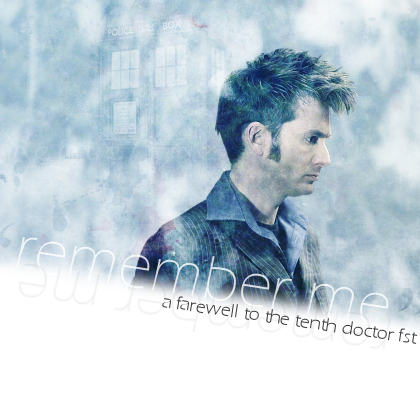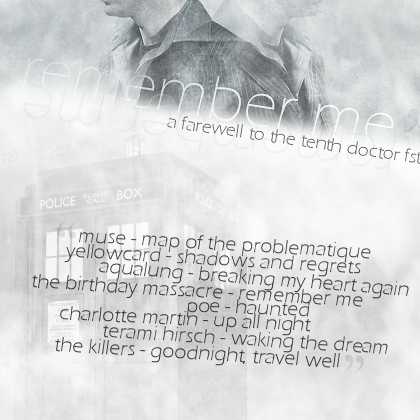 (01) MUSE - Map of the Problematique (4.14)
(02) YELLOWCARD - Shadows and Regrets (3.59)
(03) AQUALUNG - Breaking My Heart Again (3.27)
(04) THE BIRTHDAY MASSACRE - Remember Me (4.07)
(05) POE - Haunted (5.20)
(06) CHARLOTTE MARTIN - Up All Night (3.57)
(07) TERAMI HIRSCH - Waking the Dream (3.47)
(08) THE KILLERS - Goodnight, Travel Well (6.51)

total running time: 35 minutes, 42 seconds approx

tracks • remember me
o1. muse - map of the problematique
fear and panic in the air
i want to be free from desolation and despair
and i feel like everything i sow is being swept away
well i refuse to let you go

loneliness be over
when will this loneliness be over

"i'm the last of the time lords."
o2. yellowcard - shadows and regrets
i heard, heard myself say things i take back
if i could, could re-tell and make these stories last
i see, see shadows of who we'll always be
when i drive, drive these roads that made our memories

"but we had the best of times. the best."
o3. aqualung - breaking my heart again
i want to fight
afraid to fight
why don't i fight
and make you see
i hold my breath
and disappear inside myself

don't ask me to start
just don't ask me to start again

"i'm going to die."
o4. the birthday massacre - remember me
it's safe to say i'm lonely now
a place called home is just a memory away
i know i've done this all before

and if i try to get away
how long until i'm free
and if i don't come back here
will you remember me

"remember me, sarah jane."
"nobody is ever going to forget you."
o5. poe - haunted
and i'm haunted
by the lies that i have loved
and actions that i hated

"i can never go back. i can't. i just can't."
o6. charlotte martin - up all night
and if you're really meant to be
then you'll be back again
and i watch as your beginning
turns into the end

i was up all night
waiting for some kind of miracle
i was up all night
feeling alone in the universe

"you're going to have a really great year."
o7. terami hirsch - waking the dream
i look down and all i see are
frozen feet on a yellow brick road
and as i look down the road all i see is
a line i'm meant to walk alone

"where are you going?"
"to collect my reward."
o8. the killers - goodnight, travel well
the unknown distance to the grey beyond
stares back at my grieving frame
to cast my shadow by the holy sun
my spirit moans with a sacred pain
and it's quiet now
the universe is standing still

up above the world so high

"we will sing, doctor. the universe will sing you to your sleep."
download • remember me
.rar (mediafire)
.rar (sendspace)

If anyone wants a .zip just hollar and I'mm attempt to upload the .zip to sendspace.

Please comment if you decide to download! ♥ These songs aren't written or belong to me in any way so please respect the artists. Above all, enjoy the songs and no redistributing this fst without my permission: linking to this post is fine.