This here? This here is what you'd call a very old FST that I made... oh, in 2008. And never posted. I am good? ... in all seriousness, though, time to stop being lazy and share! It's something that I've had constantly on my ipod for those two years, and I still love it as much as I do then as I do now, despite the fact it is from a while back, and there are about eighteen songs on it, haha. Oh well.

You may notice that Take Me Away, by Lifehouse, is on here twice, once as acoustic and once as not. Well, acoutstic is main, because I saw a video for it with Ten/Rose, so I'm bias. But... I love the main version, too. The intro just makes me see the running scene from season 4 in my head. Hence quote.

PS. I like Doctor Who/Ten/Rose if you haven't noticed already. 8)



ten/rose fst •begin to stop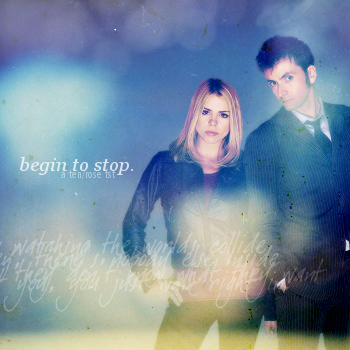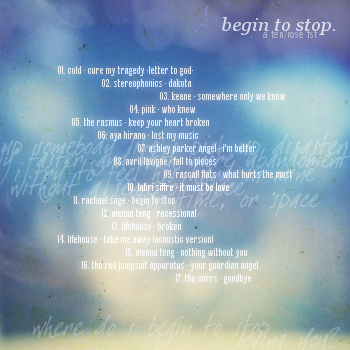 (01) COLD - Cure My Tragedy -Letter To God- (3.52)
(02) STEREOPHONICS - Dakota (4.57)
(03) KEANE - Somewhere Only We Know (3.57)
(04) PINK - Who Knew (3.28)
(05) THE RASMUS - Keep Your Heart Broken (3.56)
(06) AYA HIRANO - Lost My Music (4.17)
(07) ASHLEY PARKER ANGEL - I'm Better (3.20)
(08) AVRIL LAVIGNE - Fall to Pieces (3.28)
(09) RASCAL FLATTS - What Hurts The Most (3.33)
(10) LABI SIFFRE - It Must Be Love (3.52)
(11) RACHAEL SAGE - Begin to Stop (3.31)
(12) VIENNA TENG - Recessional (4.05)
(13) LIFEHOUSE - Broken (4.46)
(14) LIFEHOUSE - Take Me Away (Acoustic) (3.56)
(15) VIENNA TENG - Nothing Without You (3.39)
(16) THE RED JUMPSUIT APPARATUS - Your Guardian Angel (3.50)
(17) THE CORRS - Goodbye (4.07)

[BONUS - LIFEHOUSE - TAKE ME AWAY]

total running time: 1 hour, 10 minutes approx

tracks • begin to stop
o1. cold - cure my tragedy -letter to god-
won't you cure my tragedy
don't take her smile away from me
she's broken and I'm far away

i can't take this anymore
i can't feel this anymore
won't you take and give her pain to me
cause my whole life i made mistakes
can you hear me scream
o2. stereophonics - dakota
laying back head on the grass
chewing gum having some laughs
yeah having some laughs

remembering you
what happened to you
i wonder if we'll meet again
talk about life since then
talk about why did it end
o3. keane - somewhere only we know
oh simple thing where have you gone
i'm getting old and i need something to rely on

is this the place we used to love
is this the place that i've been dreaming of
o4. pink - who knew
you took my hand
you showed me how
you promised me you'd be around

if someone said three years from now
you'd be long gone
i'd stand up, and punch them out
cause they're all wrong
i know better
cause you said forever and ever
o5. the rasmus - keep your heart broken
one day i'll come back if the door's still open
just promise to keep your heart broken

i said i must go
i must face this disaster
i said i would come after you ever after
o6. aya hirano - lost my music
how i wonder where you are right now
and if you are with somebody else
i think back on all the times
the times we used to share
it hurts so deep inside me

i will search for you until the end of time
i will search for you through all of eternity
o7. ashley parker angel - i'm better
when i'm here with you
i just block it out
it's cool we talk about whatever
and yeah you know i've been around
my world came crashing down
but when i'm here with you i'm better
o8. avril lavigne - fall to pieces
if i had my way
i'd never get over you
today's the day
i pray that we make it through
o9. rascal flatts - what hurts the most
i'm not afraid to cry every once in a while
even though going on with you gone still upsets me
there are days every now and then i pretend i'm okay
but that's not what gets me

not seeing that loving you
that's what i was trying to do
1o. labi siffre - it must be love
it must be love love love
it must be love love love
nothing more nothing less
11. rachael sage - begin to stop
i pick up somebody like
i pick up disaster
only faster and with more abandonment
i try to feel his hand in mine
without a sense of place or time or space

and i don't know where to begin to stop loving you
12. vienna teng - recessional
in the terminal she sleeps on my shoulder
hair falling forward mouth all askew

who are you
the stranger in a shell of a lover
dark curtains drawn by the passage of time
13. lifehouse - broken
i'm falling apart
i'm barely breathing
with a broken heart that's still beating
in the pain there is healing
in your name
i find meaning
so i'm holding on
14. lifehouse - take me away (acoustic)
this time all i want is you
there is no one else
who can take your place

i've seen it all
and it's never enough
it keeps leaving me needing you
take me away
15. vienna teng - nothing without you
it's the quiet night that breaks me
i cannot stand the sight of this familiar place

so call my name
you know my name
and in that sound everything will change
tell me it won't always be this hard
i am nothing without you
but i don't know who you are
16. the redjumpsuit apparatus - my guardian angel
i will never let you fall
i'll stand up with you forever
i'll be there for you through it all
even if saving you sends me to heaven
17. the corrs - goodbye
oh where are you now
could i get there somehow

tell me there's something more
another time for love
one day i'll know one day i'll be there
will you be waiting
bonus; lifehouse - take me away
why don't you ask her yourself?
download • begin to stop
.rar (mediafire)
.zip (megaupload)

Please comment if you decide to download! ♥ These songs aren't written or belong to me in any way so please respect the artists. Above all, enjoy the songs and no redistributing this fst without my permission: linking to this post is fine.