This is a very old fst: I originally posted it way back in 2007, but I still listen to it a lot, and still love it a lot, as well, so this is basically a repost to that effect, with all my uneccessary babble reduced down to nothing but the lyrics (since half of it doesn't apply anymore). This FST is for the character of Sakura from Tsubasa, around the Tokyo era/Infinity era.



sakura fst •how to save a life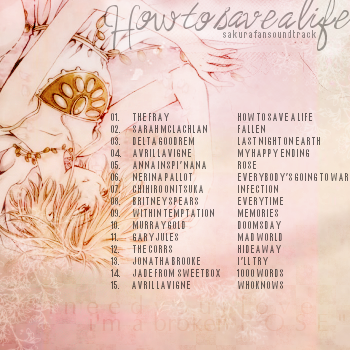 (01) THE FRAY - How To Save A Life (4.23)
(01) SARAH MCLACHLAN - Fallen (3.40)
(01) DELTA GOODREM - Last Night On Earth (4.08)
(01) AVRIL LAVIGNE - My Happy Ending (4.01)
(01) ANNA inspi' NANA - Rose (3.49)
(01) NERINA PALLOT - Everybody's Going To War (3.54)
(01) CHIHIRO ONITSUKA - Infection (5.45)
(01) BRITNEY SPEARS - Everytime (3.49)
(01) WITHIN TEMPTATION - Memories (3.54)
(01) MURRAY GOLD - Doomsday (5.14)
(01) GARY JULES - Mad World (3.11)
(01) THE CORRS - Hideaway (3.25)
(01) JONATHA BROOKE - I'll Try (4.10)
(01) JADE FROM SWEETBOX - 1000 Words (6.00)
(01) AVRIL LAVIGNE - Who Knows (3.30)

total running time: 62 minutes, 53 seconds approx

tracks • how to save a life
o1. the fray - how to save a life
lay down a list of what is wrong
the things you've told him all along
and pray to god he hears you
and pray to god he hears you
o2. sarah mclachlan - fallen
the lonely light of morning
the wound that would not heal
it's the bitter taste of losing everything
that I have held so dear

i have fallen
i have sunk so low
o3. delta goodrem - last night on earth
it's the last night on earth
before the great divide
my hands are shaking
time was never on our side
and there's no such thing as a beautiful goodbye
o4. avril lavigne - my happy ending
don't leave me hanging
in a city so dead
held up so high on such a breakable thread

thanks for acting like you cared
and making me feel like I was the only one
it's nice to know we had it all
thanks for watching as I fall
and letting me know we were done
o5. anna inspi' nana - rose
when I was darkness at that time
my lips suddenly shivering
i cry in the corner of this room

i need your love i'm a broken rose
the dancing, falling sadness of your song
my lonely life with no whereabouts
i need your love i'm a broken rose.
oh baby, help me from frozen pain
with your smile, your eyes

the dying, falling sadness of my soul
i'm a collapsing, lonely little girl
o6. nerina pallot - everybody's going to war
i've got a friend
he's a purebred killing machine
he said he's waited his whole damn life for this

so, everybody's going to war
but we don't know what we're fighting for
don't tell me it's a worthy cause
no cause could be so worthy
o7. chihiro onitsuka - infection
the shadow cutting across my heartbeat
peels away someone's mask again.

but when did I become this weak?
i pretend that I don't notice that my legs have given way
my foolish sickness just gets worse and worse
in the night i realise this infection
o8. britney spears - everytime
notice me, take my hand
why are we strangers when
our love is strong
why carry on without me

everytime i try to fly
i fall without my wings, i feel so small
and everytime i see you in my dreams
i see your face, it's haunting me
o9. within temptation - memories
in this world you tried
not leaving me alone behind
there's no other way
i'll pray to the gods let him stay.

in silent moments
imagine you'd be here
all of my memories keep you near
your silent whispers, silent tears
1o. murray gold - doomsday
instrumental
11. gary jules - mad world
all around me are familiar faces
worn out places, worn out faces

children waiting for the day they feel good
happy birthday, happy birthday
and i feel the way that every child should
sit and listen, sit and listen
12. the corrs - hideaway
you can't waste more time
because you've been gone for far too long
trapped in his arms, safe without harm
follow your heart don't be afraid

let yourself go, don't you worry about a thing
breaking the chains, so hard to begin
13. jonatha brooke - i'll try
i am not a child now
i can take care of myself
i musn't let them down now
i musn't let them see me cry
i'm fine, i'm fine

i try and try to understand the distance and between
the love i feel, the things i fear, and every single dream
14. jade from sweetbox - 1000 words
the dream isn't over yet
though i often say i can't forget
i still relive that day
"you've been there with me all the way"
i still here you say
15. avril lavigne - who knows
why do you look so familiar
i could swear that i have seen your face before

find yourself
cause i can't find you
be yourself
who are you?

download • how to save a life
.zip (megaupload)

If anyone wants a it uploaded elsewhere, just hollar.

Please comment if you decide to download! ♥ These songs aren't written or belong to me in any way so please respect the artists. Above all, enjoy the songs and no redistributing this fst without my permission: linking to this post is fine.